Silver Martin Master "Typewriter" Alto Saxophone
Meet the "Typewriter Martian" a very rare silver 1930 Martin alto sax
You are bidding on a silver Martin master typewriter alto sax. Serial number 98696 indicates it was made in 1930. This is a pro level sax with the unusual feature of having all round mother of pearl keys. This was a limited edition sax made along at the same time as the standard handcraft models from about 1927 to about when this sax was made in 1930. So this was one of the last of its kind to be made. It was referred to officially by Martin as the "Master" model, but soon was nick-named the "Typewriter" because of the special keys, which I believe may have led to its ultimate demise due to its being perceived as a little more challenging instrument to play. I found it takes only a little getting used to, like any different sax you might pick up that you aren't initially used to, but it doesn't seem that difficult a transition for any good flexible player. It might just be me, but I found this typewriter to have an interestingly different tone! Mellower, more blending, and seemingly more refined than a handcraft or later searchlight. This is also the first Martin model with more modern keywork with no forked E flat extra hole, for example. I almost think that this Martin Master line was the beginning of an ultimately failed attempt by Martin to produce a sort of Aristocrat-like pro line years before Buescher did. Also an attempt to keep up with the Chu's then favored by many pros. This is also one of the last of the standard silverplate production horns as not long after this Martin (and the other makers) switched to lacquer as its primary default finish. Silver was still available in later years, but only as a low volume special order. Not many of these typewriters still exist, especially in original silverplate without later relacquer. Unfortunately the neck is not the original, as evidenced by the difference in serial numbers, but an earlier nearly identical Martin handcraft style neck from about 1926. The neck that came with this sax originally is identical to this handcraft neck with the one difference being that a decorative brace was added for this model as a cosmetic only enhancement. This sax plays as in tune and with the same sound as if it had the brace neck, which frankly doesn't look as modern or attractive as this neck without the silly brace. Has the classic Martin beveled soldered on tone holes. Check the pictures for the unique and special keywork, certainly very pretty to look at! Cosmetically, there are no dents and only a couple minor dings near the front bow area. The bow fin and bow area, in general, are in excellent condition. There isn't much wear showing on the usual keys, cause all the keys have pearls, however the lower thumbrest does show a little wear. All of the mother of pearls are original as far as I can tell! There is some minor plating loss on some of the key mechanisms and tone hole covers. One of the keys, the right palm B flat, may have been broken and resoldered at some point, but was well done and is far from being obvious, as you have to look closely to really see it. Silver plating is intact in about the 85% plus range. All in all, a very attractive and rare typewriter model in original silverplate with the gold wash in the bell! Certainly a most playable and collectible piece of Martin history! Check the pictures to see for yourself. The horn was completely torn down to the tube and scrubbed and bathed inside and out. Then carefully reassembled with Mark VI dome resonator pads. Then it was carefully leak light tested and play adjusted and tested. It may need more break in, just like any new horn does. I try and do what I can, but I just don't have the playing hours these beauties really need. Hopefully, the new owner can continue this process. There is no mouthpiece with this horn. I do have a brand new Runyon custom with spoiler in stock in a 5 facing available at additional cost.

This sax comes with a black early to mid thirties style Buescher hard case with plush lining that obviously isn't the original case though of the same general era. It's in good condition with no discernible problems beyond being worn and somewhat dirty. It doesn't smell and should protect the sax during shipping and beyond. There was no body plug with the sax and standard replacements don't fit as the body opening is too narrow. I have created a good working temporary cardboard one.

Our guarantee & return policy.
See photos: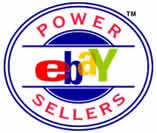 Buyer to pay actual cost for shipping, insurance, and packaging. We accept Master Card & VISA through Billpoint or Paypal, US checks and money orders.
I prefer PayPal, the #1 payment service in online auctions!