Buffet made Evette & Schaeffer Carl Fischer Silver Baritone Saxophone
Meet "The Titanic" (made at about the same time as the famous ship, who knows if some of her brothers and sisters might have been lost in the great ship on their way to America from their birthplace in France)
You are bidding on a classic silver Buffet stencil baritone saxophone in excellent condition for its age. According to the serial number of 21xxx she was made in Paris, France in 1912!

She is marked LP for low pitch which is the current world wide concert standard. French saxophones like this were slow to adopt the automatic octave mechanism most US made saxes had by this time. As such this bari has the older style double octave keys one for the upper pip and one for the lower pip. Naturally, most baris play the lower notes so 85% of the time you would only use the lower octave key or no octave key anyway. Another interesting thing I find with this arrangement, is the player can manually control the switchover from lower to upper which may optimally differ with varying reed and mouthpiece combinations, giving the player more control and sound options. However, as many players have never encountered these dual octave keys, they may not be suitable for those unexperienced with them and without the desire to learn how to use them.

Overall it is in excellent condition, as you can see, and has much elaborate and gorgeous decorative engraving. Has the large Martin style soldered on tone holes and similar heavy construction. The tone is like a cross between a Buescher and a Martin, with the refined sound and good intonation of a Buescher, but also with the in your face raw throatiness of the Martins. It has no real big dents, there are some dings mostly near the bow and near the lower thumbrest and some on the pig tail below the neck, and virtually no scratches. The lower thumbrest looks pushed in very slightly. A couple of the keyguards near the bow have been reattached and there is a missing minor one on the alt C right palm hole. Only the two thumbrests and the double octave keys show wear all the other keys look good.

It appears to be the original neck which matches the body well. Overall the horn has about 95% of its original silverplate! Despite the resoldering and the many dings which are extremely common for early baris, this is by far the finest condition pre twenties horn I have ever seen! The silverplate is shiny and pristine over most of the horn despite 90 years having gone by!

During her extensive drydocking, she was stripped down to the tube and cleaned out. Next she was reassembled with all new resonator pads and new cork. Then she was carefully leak light tested and play adjusted and tested. Due to the new pads, she may need more break in, just like a new horn does. Just don't have the playing hours all these horns may need! Hopefully, the new owner will continue this process.

It plays with a rich deep dark tone as I described above. This is a very, very potent horn as I will now further elaborate on. Now the fun part, I can honestly say that this is the most powerful horn I have ever played! This Foghorn doesn't just have power and projection, it's an EARTHQUAKE! I felt the need to play it outside to save the family from continued suffering! Once outside it echoes endlessy off the other houses, as every bird takes flight! After the echoing stops and the birds fly away, you hear every dog in the neighborhood barking! I also have a newly restored 1949 Big B bari, in house also, and have played the two in comparison. In summary, though the Big B is a loud brute of a honky tonk barking bari, it just can't compete against this silver FOGHORN! I would speculate that lacquer horns, generally aren't as loud as silver plate especially when they still have much of their lacquer as this Big B does. Play this foghorn at your own risk, you were warned!

No mouthpiece with this sax. The "Star of the Sea" necklace does not come with this saxophone. It belongs to the wife and we need it to pose with the five digit serial number silver Selmer Mark VI baritone named "Bari-fast at Tiffany's" or "Tiffany" for short that is coming to eBay as soon as she is finished with her drydocking. Tiffany is more of a Frank Lloyd Wright designed USS United States as a ship, then HMS Titanic. However, despite being fifty years apart both have the incredibly gorgeous french looks along classic simple lines!

This sax comes with its original deluxe plush lined case that, like the sax, is also in excellent condition. Even still has the original handle, which is incredible for a ninety year old bari!

Our guarantee & return policy.
See photos: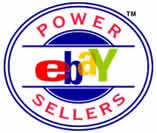 Shipping & Payment Information
Buyer to pay actual cost for shipping and insurance. We will ship internationally however this item is considered oversized so USPS may not ship to some countries. Other services will but the rate will be high. If you'd like an estimate of shipping costs, please email with your address including postal code.

We accept Master Card & VISA through Paypal, Billpoint or Bidpay as well as Western Union, cashiers checks and money orders. US personal checks are accepted but we will hold item until check clears.

I prefer PayPal, the #1 payment service in online auctions!