Selmer Mark VI Silver Baritone Saxophone
Meet "Bari-fast at Tiffany's" or "Tiffany" for short. She was made at about the same time as the famous movie "Breakfast at Tiffany's (1961)" and if Tiffany's, the all so famous ultimate New York jewelry store, had offered a silver baritone saxophone at the time of the movie it would certainly have been a silver Selmer Mark VI like this one! A most spectacular "Sax in the City" it would be surrounded by all those Marilyn Monroe "Girls Best Friend" diamonds and other precious stones and metals.
You are bidding on a rare silver classic five digit serial number Selmer Mark VI baritone saxophone in very good condition for her age! According to the serial number of 97xxx she was made in Paris, France in late 1961 according to the Selmer Company serial list. As most people who really know Mark VI's know, the high five digit serial number horns in silver made in the 1960 to 1962 timeframe are among the most sought after Mark VI's ever made. At least that's what the buzz is, I can't personally confirm this as I haven't played enough different era Mark VI's to know for sure, as I haven't owned that many, for obvious reasons. Most players guard them very closely, like jealous lovers. They seem to have almost spiritual relationships with their Mark VI's. However this best Mark VI's theory does make a great deal of sense as the earlier ones would have been too newly evolved in the model run to have become truly stress test craft adjusted/perfected and the later ones probably suffered many of the same quality and production shortcuts and errors as all saxophone models of every make had from the middle 60s onward into the 70s and beyond as their parent companies tryed to save money and kept cutting costs.

Overall, a RARE classic in very good condition, as you can see. It has much elaborate and gorgeous decorative engraving only bestowed on the US export models sent here. Many sophisticated players and Mark VI fans say the tone is probably among the most refined and pure sounding of any saxes ever made! They also say intonation is superb, again among the best in the world and I have seen nothing to diminish that claim. The keywork is highly responsive and ergonomically very friendly as most all of you know. The floating left pinky table is legendary! It's very much a player's horn that happens to look great even pretty close up!

Tiffany has seen some action folks, but is still in very good better than average original condition for her age. The neck, bell, and body serial numbers all match and the neck is also in very good condition. She may have been in a school band at some point in her life (identifying characters engraved near the serial) and has a small patch on the pig tail. Mark VI bodies aren't the thickest and that may help explain their great refined sound. She has had a keyguard replaced (C sharp) and a new brass colored bowguard put on over top of her original one for reinforcement however this great old girl has still got a lot of life left in her and she's still one of the most gorgous and refined baris on the planet! She has no real dents. There is a healthy flat spot on the very bottom of the newer brass bowguard, but there doesn't appear to be any impact in to the body at all. Two minor dings on the pig tail (one of them where a patch was applied) and some ripples exist. I see very little or no key wear, Selmer must have used thick silverplating on these keys! There is typical loss of finish and scratching on the back of the horn away from the audience between the lower thumbrest and the ring. As also is common the lower back clothes guard is missing and the mounts were profesionally removed. I did do some replating of one key and a couple guards that were a little worn to help bring this special gal to a cosmetic state more worthy of her fantastic voice. There is some brass color lacquer on three key guard anchor points which probably were reattached to the horn at some point. You can see this in the pictures and it probably can be touched up, if the new owner so chooses at a later time. None of this is overtly obvious unless you are looking for it up fairly close to the horn. The engraving on the original silver finish is crisp and nice looking with only a few very small areas of finish loss. Overall the horn has about 90% plus of its original silverplate! Even higher than that if you count the side toward the audience. The silverplate is shiny and nice over most of the horn! Imagine playing this sparkling honey up in front of the band with the spotlight on you reflecting the shiny disco images all over the auditorium!!!

During her overhaul, she was stripped down to the tube and cleaned out and polished. Next she was reassembled with all new SPECIAL ORDER VARYING THICKNESS Mark VI resonator pads made SPECIFICALLY for this make and model of sax along with new cork where ever it was needed. Then she was carefully leak light tested and play adjusted and tested. Due to the new pads, she may need more break in, just like a new horn does. Just don't have the playing hours all these horns may need! Hopefully, the new owner will continue this process.

It plays with an incredible rich deep dark pure tone as I described above. It's not the loudest bari I've ever played, but she is the loudest Mark VI I ever played. It probably is the richest most refined tone I have ever heard and with almost no distortion. Tiffanys incredible rich, pure dark tone would be ideal for miking in louder environments where needed. I imagine with some aggressive mouthpiece selections Tiffany can be made to boogie quite well, also! In general, because of the rare original silver plate finish expect this horn to be more potent than the more common lacquer Mark VI's you normally see. So besides being prettier then most other Mark VI bari's, Tiffany is also more potent then most other Mark VI bari's. Also Tiffany being a low B flat bari is lighter, more potent, and free of the serious stuffiness that the Low A baris suffer.

No mouthpiece comes with this sax. For a good deal on a brand new Runyon let me know. This sax comes with a good old Bundy deluxe plush lined case that has seen better days, but is still quite functional should serve for a good while still to disquise the precious Tiffany from the prying eyes of salacious strangers and other ruffians.

Our guarantee & return policy.
See photos:
Tiffany stripped down and just after her bath!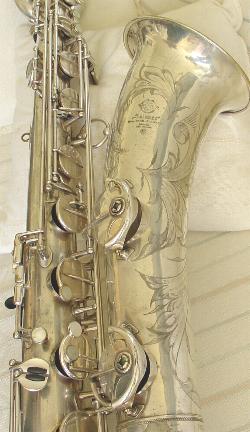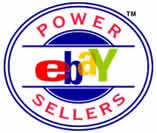 Shipping & Payment Information
Buyer to pay actual cost for shipping and insurance. US buyers email with your ZIP CODE for shipping costs. We do ship internationally however this item boxed is larger than allowed by the United States Post Office. Other carriers will ship but the rate will be very high. If you'd like an estimate of shipping costs, please email with your address including postal code prior to bidding.

We accept Master Card & VISA through Paypal or Bidpay as well as Western Union, direct wire transfer, cashiers checks and money orders. US personal checks are accepted but we will hold item until check clears.

I prefer PayPal, the #1 payment service in online auctions!