1917 Silver Conn made Wurlitzer
United States Quartermaster Corps
Tenor Saxophone
Meet "the Silver Cannon"
Or is that "Silver Conn-on"?
You've heard of those newer pro level Taiwanese Cannonballs, Well here's some REAL US made military artillery ready to blow you away! With a howitzer size bell of six and a quarter plus inches, it is exceeded in bell size only by the famous Buescher 400 line! This sonic gun matches its gorgeous looks in the sound department, as it is by far the most potent Conn tenor I have ever played! The recently sold thirties silver 10M stencil Silver Cavalier was a strong horn, but no match for this weapon! I compared it with the strongest reference tenor in the shop, a 1941 silver Martin made tenor called "Silver Martian" and it couldn't compete, especially in the lower notes! As such, it's got to be the most potent tenor I have ever played or restored! It truly lives up to its name "the Silver Cannon". Today's military issue Selmers aren't in this league, at least not in power and projection!
You are bidding on a Silver Wurlitzer USQMC Tenor Saxophone made by Conn. The serial number of 40xxx indicates it was made about 1917, then there's the "T" for B flat tenor model on top, and then below the serial "L" for low pitch the modern concert pitch standard. Below the normal bell engraving are the military acquisition initials for the quatermaster Corp or "USQMC". This is clearly the strongest Conn tenor I have ever played, the first one that not only approaches, but perhaps exceeds the sound and projection of the best Bueschers and Martins! Perhaps more demanding military specifications partly explain the higher level of power and performance like in the amount and type of brass used, for example. The US military being one of the largest and most important customers, most military horns were built to a higher standard than the regular horns. Also the silver really sweetens and strenghthens the sound and helps project better than with newer traditional lacquer horns. This is really only the second Conn tenor, besides "Silver Cavalier", that I've been much impressed with and this one has more punch than the thirties 10M based Cavalier had! If anyone remembers the famous silver 1912 "Titanic" Buffet bari I offered and sold last year this is the tenor equivalent of that or "Titanic Tenor".

Cosmetically it truly is gorgeous as you can see, especially for its age. It looks almost as good as it plays. It's obviously the original silver neck with a new neck cork just applied. There is some minor finish loss and some neck pull down bulging that is common in older horns. There is some typical loss of finish and wear on a number of keys and key cups. The finish loss on five or six of the key cups where the finish is starting to peel off is a result of classic Conn manufacturing process defects I have seen on other Conn silverplate saxes and not the result of wear. There is almost no typical loss underneath the keys and around the tone holes that you typically see. The finish loss isn't that visible unless you are looking more closely. There are no significant dents though there are some dings in the front side of the bottom of the bow, one larger on the guard and two fairly small ones nearby. There is a very little typical scratching and loss of finish above the ring area. There is a little scuffed place at the top of the body near the neck join. Amazingly there are no resoldered posts or keyguards that I can see, and I looked twice because that's so rare on such an old horn. There is gold wash in the bell though after so many years it isn't quite as prominent anymore as it probably once was. Original silver plate is intact in the 95% range, phenomenal for a horn this old! Look at the pictures and see for yourself.

This horn was torn down, cleaned out, body and keys polished, body and keys separately treated with a powerful anti tarnish substance (better than a clear lacquer as it is transparent and non inhibiting sound-wise and doesn't peel or flake off with age), then rebuilt replacing all its original pads with Mark VI resonator style pads. This horn is well along through break in, but may need more regular playing by its new owner to complete that.

No mouthpiece comes with this sax. I have many new and used mouthpieces in stock available at additional cost. Also I am a Runyon reseller if one of their fine line might appeal to the buyer. also at additional cost. There is a marching lyre and an odd old guitar string box containing some old vintage reeds and other things that came with the sax and I pass along to the new owner as memorabilia. This sax also comes with its obviously original deluxe hard case that has seen better days but would be OK for shipping the sax and for light duty afterward. It probably should be kept for authenticity and a newer one used for active playing. A newer case should be selected with some care due to the large oversize bell of this monster. I found that if you use this case you might want to get a small towel rolled up or a little pillow at the bottom to allow the sax body to better fit in the case and not move around as much.

Another note, this anti tarnish treatment on the entire horn I perform is extra work but should keep this horn cleaner and much more tarnish free for some years to come and I am the only one in the world I know of that does it!

Our guarantee & return policy.
See photos: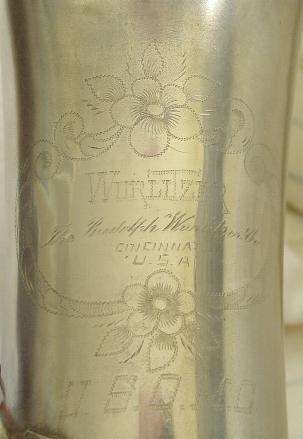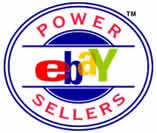 Buyer to pay actual cost for shipping and insurance within the US. Email with your zip code for shipping costs. Package is oversized and may exceed the limits of the US post office for shipping to many locations outside the US. If you're outside the US please email before bidding.

We make payment EASY! We accept Master Card & VISA through Paypal (prefered method of payment), as well as Bidpay, Western Union, cashier's checks and money orders. Personal checks are accepted but item will be held for 10 days until check clears.

I prefer PayPal, the #1 payment service in online auctions!