Martin stencil Indiana Tenor Saxophone
Meet the "Silver Chief"! (Quick it's an indian, it's a train, no it's a saxophone!)
You are bidding on a Martin Indiana tenor sax. Serial number of 79xx indicates it was made in 1931. This is a rare earlier silver Indiana that still has a remnant of the intonation hole that was on the lower left backside of earlier horns. It's moved to the right in front between the E flat/C holes and the D hole. Shortly that last intonation hole will disappear and the bell holes will move to the left side and the finish will become lacquer for the remainder of the Indiana's run which go on into the early sixties. This particular horn has had only light wear as you can see from the pictures. Only one key the lower right palm has light wear. In addition, the original neckpiece has a serial number that matches the body and has very little finish loss. Be warned that the picture of the neck with it's serial number implies finish loss with brass starting to show through, this is an optical illusion. There is no loss. Note also that the outdoor shots were carefully selected to avoid shiny reflection as the pictures which showed any of this were badly burned out and out of focus as the camera can't handle that! Cosmetically it is spectacular! As you can clearly see! I have to look hard to find much wrong, but here goes. There are no dents, dings or ripples! There is a tiny dark spot or speck on the right side of the bell which is most likely a manufacturing defect in the silver plate finish. There are no significant scratches or post/keyguard repairs that I can see anywhere on the horn. This horn really is unusually pristine for its age! You'd never know it was 71 years old! It also plays wonderfully a rich tone that only a fine silver Martin tenor can provide. Silver finish is intact in the 98% plus range, about the best I've ever seen in a horn this old . The horn was completely torn down to the tube and scrubbed and inside and out. Then the body and keys were all polished to remove any remaining dirt or tarnish. Next it was reassembled with all new resonator pads. Then it was carefully leak light tested and play adjusted and tested. Due to the new pads, it may need more break in, just like a new horn does. Just don't have the playing hours all these horns may need! Hopefully, the new owner will continue this process. It plays wonderfully: a rich dark fat tone. This is a potent horn! Ready for some blowin'! A no name mouthpiece with silver cap and ligature comes with this sax. It looks like it could be the original set that came with the sax. The mouthpiece has only a little wear showing and is in very good shape overall. The cap and ligature are clean and still shiny inside and out! If the new owner is interested in an upgrade new Runyon mouthpiece in addition to the stock set that can be added at additional cost. I happened to have a brand new Runyon custom with spoiler in a 5 facing in stock at the moment. If I don't have it in stock I can order it. No shipping charge, of course, if it goes out with the sax. This sax comes with a brand new form fitting deluxe hard case with plush lining. Note the dust showing on the top is easily whipped off.

Coming attraction, a clean lacquer 1941 Martin pro New York based label stencil tenor from New Jersey named "Frank Sinatra" is coming to eBay soon. Contact me for auction start date for that horn.

Our guarantee & return policy.
See photos: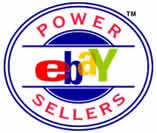 Buyer to pay actual cost for shipping, insurance, and packaging. We accept Master Card & VISA through Billpoint or Paypal, US checks and money orders.
I prefer PayPal, the #1 payment service in online auctions!