1955 Silver Buescher Elkhart Alto Saxophone
Meet "Super Silver Elk" (Can you hear the call of the wild? You can if he's on steroids?) a gorgeous and wonderful sounding mid fifties VERY RARE silver classic! It may look like a rare collectible stock elk on the outside, but under the hood this baby's packing some heat with chrome dome resonators and low pro style action! As either a player or a rare collectible, this hot rod elk is a must have!
You are bidding on a silver plate Buescher made Elkhart alto sax. Serial number 74xxx (model 20A) in the traditional Buescher raindow arc style indicates it was made in the mid nineteen fifties or about 1955. This sax was just prior to the later silver keyed lacquered models (including the 21A stencil models) that Buescher introduced universally about 1956 to 1957. This particular sax was one of a very few that were made in all silver plate finish something not done commonly since the early nineteen thirties. Like the Indiana stencil serial number sequence for Martin this Buescher stencil serial number sequence is best known for these Buescher made Elkhart saxophones. As is commonly known, of course, Buescher owned the Elkhart company from the late nineteen twenties until it was effectively closed down at the time of the Selmer takeover of Buescher in the early to mid sixties.

This is a quite nice looking and great sounding sax with beautiful engraving on the bell around the name with the Elk. It also is in excellent original condition, as the pictures show. Though many consider stock Elkharts to be student level instruments, they were actually more than that since they were essentially Buescher Aristocrats in disguise. Missing only the snaps and heavier duty springs, they were basically the same bodies and keys as the Aristocrats.

This particular Elk has been overhauled and is essentially a pro level sax now. Besides the rare silver finish it has brand new large dome metal Selmer Super 80 resonators and has been set up with special low pro style key action! There is one picture that attempts to show the dome resonators on the lowest bell hole pads, they appear dark in the picture though they are really bright silver chrome colored and mirror shiny, but hopefully even dark you can still make them out. It's real hard to get a good picture of them with the low pro style action, ha ha! I compared this silver elk sax with a pro level pristine Buescher 400 with original snap pads and still in original factory adjustment/setup and this silver elk sounded and felt quite similar! The elk has a lighter touch feel to the action due to the stronger 400 springs, but the sound was virtually identical with the elk sax perhaps having a little more potency due to the silver versus lacquer finish of the 400. The only other difference was due to the brand new pads on the Elk not yet having seats as deep as the original 400 snap pads. The only other difference I detected is the Super 80 metal domes sounded a little brighter than the snap resonators, though that difference could possibly also be attributable to the silver versus lacquer finish.

Cosmetically, I see no significant dents or dings. There is a small ripple in the typical chair side bow area. There are several micro dings on the bell below the engraving area, only visible up close or to touch. Also there are some typical manufacture time silver finish defects on the body that appear as tiny black specs near the bell holes and perhaps a couple others elsewhere. There is little finish loss even underneath the keys! There is no wear on any of the keys. The neck appears original with a new neck cork and has little loss of finish and perhaps a couple hard to see pin sized micro dings. Original Silver finish is intact in the 98% plus range! This elk was torn down, cleaned out, body and keys polished, body and keys separately treated with a powerful anti tarnish substance (better than a clear lacquer as it is transparent and non inhibiting sound-wise and doesn't peel or flake off with age and is selectably renewable as needed), then rebuilt with pro level Selmer Super 80 dome resonator pads. This horn is well along through break in, but may need regular playing by its new owner to complete that.
It comes with its original silver colored marching lyre polished and protected and its original worn looking white plastic body plug. No mouthpiece comes with this sax. If one is desired I have a selection of used and new ones available for an extra charge. In addition, I am a Runyon and Morgan reseller. I happened to have in stock an alto Runyon Custom 5 facing with spoiler brand new in its box with ligature and cap again for additional charge. I think I have some new mouthpiece teeth guards in stock for extra cost as well. I also have a few new sax straps available, some in leather and others in black web.
This sax also comes with its original leather trimmed deluxe hard case also in excellent condition. It does have a previous owners name and address written on it in black marker that would probably wash off, part of it has already partially rubbed off. Also there is a small leather trim flap or something taped down. Another note, this anti tarnish treatment on the entire horn I perform is extra work but should keep this horn cleaner and more tarnish free on all the handling and playing surfaces for some years to come. This anti tarnish treatment is fully renewable at a later time should it need to be freshened up after extended heavy playing. It should also help protect the key and body surfaces from wear and general loss of finish that occurs from rubbing and handling during play. It is applied directly after polishing and so that newly cleaned gorgeous bright sparkling shiny luster is preserved for a much greater time than it would otherwise. Without it I've seen these finishs quickly fade to dull after polishing and even start to turn black only a short time later even with minor handling or just sitting in the case!
Our guarantee & return policy.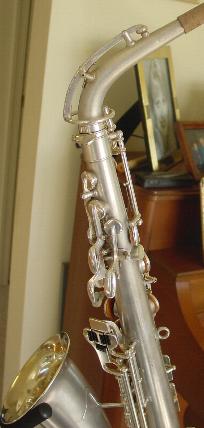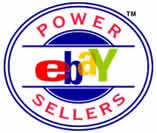 Shipping
Buyer to pay actual cost for shipping and insurance. Email with your zip code for shipping cost. As shipping costs and regulations vary from country to country, all buyers outside the continental United States are requested to email prior to placing bid.
Payment
We make payment EASY! Paypal is the preferred method. We accept Master Card, VISA, Discover, American Express, and E-checks through Paypal. We also accept cashier's checks, money orders, Western Union and Bidpay, however we do not process credit card's ourselves so we cannot take a number over the phone or by email. US personal checks are accepted but item will be held until check clears.

I prefer PayPal, the #1 payment service in online auctions!