Buescher Silver True Tone Alto Saxophone
Meet "Silver Bee" (Not Golden, but the first Silver one!) a gorgeous and wonderful sounding early thirties classic! Among the last of the silver Bueschers before Buescher went to lacquer as their default finish several years later.
You are bidding on a silver plate Buescher True Tone alto sax. Serial number 250,8xx indicates it was made about 1930. This is a late true tone typical of the last ones made before the Aristocrat was introduced. It has the extended low B keyguard, the round pearl octave key, the semicircle G sharp, and front F. It also, of course, has snap pads and this particular silver horn has all its snaps and they still look shiny, something I only rarely see in older snap horns like this! It also has its original neck in excellent condition with only a little finish loss and no discernable dings or dents. Late true tones and early aristocrats also had numbered necks, not the serial number like other makers, but low numbers supposedly indicating slightly different neck types. This neck is marked as a "1" neck.

This is also a nice looking and pleasant sounding instrument with beautiful and elaborate engraving on the bell. It also is in very good to excellent original condition, as the pictures clearly show.

Cosmetically, I see no significant dents, dings, or scratches. If you look extremely closely you might see one or two micro dings in the bow area. There is very little finish loss even underneath the keys and around the tone holes. There is wear on the typical keys. There is the typical Buescher less prominent gold wash in the bell, it's less obvious than some of the other makers. Finish is intact in the 96% plus range which is excellent in an original finish this old! This horn was torn down, cleaned out, body and keys polished, body and keys separately treated with a powerful anti tarnish substance (better than a clear lacquer as it is transparent and non inhibiting sound-wise and doesn't peel or flake off with age and is selectably renewable as needed), then rebuilt with all new snap pads. As stated above every snap is present and still shiny. This horn is part way through break in, but will require regular playing by its new owner to complete that.
No mouthpiece comes with this sax, but it does still have its original silver body plug which is also polished and treated with protective coating. If a mouthpiece is desired I have a selection of used and new ones available for an extra charge. In addition, I am a Runyon reseller and I happened to have in stock an alto custom 5 facing with spoiler brand new in its box with ligature and cap again for additional charge. I think I have some new mouthpiece teeth guards in stock for extra cost as well. I also have a few new sax straps available, some in leather and others in black web. This sax also comes with a nice newer black deluxe hard case that is not original to the sax.
Another note, this anti tarnish treatment on the entire horn I perform is extra work but should keep this horn cleaner and more tarnish free on all the handling and playing surfaces for some years to come and I am the only one in the world I know of that does this. This anti tarnish treatment is fully renewable at a later time should it need to be freshened up after heavy or lenghty playing. It should also help protect the key and body surfaces from wear and general loss of finish that occurs from rubbing and handling during play. It is applied directly after polishing and so that newly cleaned gorgeous bright sparkling shiny luster is preserved for a much greater time than it would otherwise. Without it I've seen these finishs quickly fade to dull after polishing and even start to turn black only a short time later even with minor handling or just sitting in the case!
Our guarantee & return policy.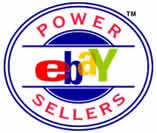 Buyer to pay actual cost for shipping and insurance. Email with your ZIP CODE for shipping costs. Overseas, please email before bidding.

We makd payment EASY! We accept Master Card & VISA through Paypal, Bidpay, or Billpoint, as well as Western Union, cashiers checks and money orders. US personal checks are accepted but item will be held until check clears. Payment is expected within 7 days.

I prefer PayPal, the #1 payment service in online auctions!