SELMER MARK VII Tenor Saxophone
Meet "Mark Seven", among the most undervalued horns ever!
You are bidding on a Selmer Mark VII tenor saxophone. The serial number M257xxx indicates it was made about 1976. This is an early Mark VII just after Selmer discontinued the fabulous Mark VI line. These early Mark VII's with the elaborate engraving are considered underpriced sleepers by many Selmer fans. Yes, this horn does have the high F sharp key as a right palm key. Cosmetically, there is the typical lacquer and key wear with scratching these horns usually have that had any real service. There is the usual rippling on the inside edge of the bow and a couple very small dings above the upper thumbrest which are barely noticable even up close. I see no other dents or dings. It appears to be the original neck with the usual lacquer loss. Original gold lacquer is intact in the 70 to 80% range. Look at the pictures and see for yourself. The horn was completely torn down to the tube and cleaned inside and out. Then carefully reassembled replacing any worn pads and corks as needed. Then it was carefully leak light pad tested and play adjusted and tested. It may need some break in, but since only some of the pads/corks were replaced this won't be like a fully repadded horn. Hopefully, the new owner can continue this process. It plays wonderfully: a rich fat tone. Pictures show most everything. No mouthpiece comes with this sax, however if the new owner is interested in a new Runyon mouthpiece in a particular facing size, that can be added at additional cost. If I don't have it in stock I can order it. No shipping charge, of course, if it goes out with the sax.

This sax comes with its original plush lined hard case that has seen better days, but is fully functional. There is some stenciled writing from a pervious owner.

Our guarantee & return policy.
See photos: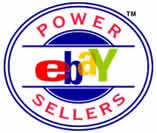 Buyer to pay actual cost for shipping, insurance, and packaging. We accept Master Card & VISA through Billpoint or Paypal, US checks and money orders.
I prefer PayPal, the #1 payment service in online auctions!