Martin Indiana Alto Saxophone
Meet "Indiana Jones Jr. II"
You are bidding on a wonderful Martin Indiana alto sax. Serial number 49xxx indicates it was made in 1954. It has the pro style features, just like "the Martin Alto" Martin's pro level sax with which it also shares the same body tube. These features include; an adjustable right thumb rest, the nickle/silver keywork, and heart shaped pro style left thumb rest. This saxophone is nice enough that it spent some time as my in house Martin alto reference horn these past seven or eight months. Check the pictures for these features!

It sounds virtually the same as "the Martin Alto" as well. I have a nice early sixties "The Martin Alto" style model also coming to eBay soon.

There are no dents or dings anywhere on the sax though there are two or three ripples below the adjustable lower thumbrest. A very few typical scratches near the ring. Also the adjustable thumbrest and maybe a couple other guard anchors may have been resoldered at some point. These places are on the lower back and not overtly visible. In addition, the neck has the same serial number as the body and appears to be in very good condition. There is only a little wear on the typical thumbrests and keys. There is only one small spot of typical lacquer loss pretty low on the bell engraving the rest of the engraving is almost pristine! Orginal gold lacquer is intact in the 96% plus range. Check the pictures.

The horn was completely torn down to the tube and scrubbed and bathed inside and out. Then carefully reassembled with high dispersion dome resonator pads. Then it was carefully leak light tested and play adjusted and tested. This includes that it may need some more break in, just like a new horn does. I try and do what I can, but I just don't have the playing hours these beauties really need. Hopefully, the new owner can continue this process. This is a really solid horn now Ready for some blowin .... Included is a Selmer mouthpiece with black plastic ligature and cap and the original Martin brass body plug that fits perfectly. I also have a brand new Runyon custom with spoiler in a 5 facing in stock at additional cost.

This sax comes with its original Martin deluxe hard case with plush lining also in very good condition. I love the colors and materials of these old cases! Certainly more exciting then the newer Model T cases that are "Any color you want as long as its black!" (or dark gray or dark brown etc, or worse the plastic/cloth bags offering no protection)

Our guarantee & return policy.
See photos: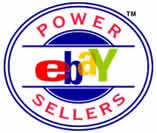 Buyer to pay actual cost for shipping & insurance. For shipping estimate, email with your zip code. We make payment EASY! We accept Master Card & VISA through Paypal, Billpoint or Bidpay as well as Western Union, US checks and money orders. Payment is expected to be received within 7 days of auction's end.

I prefer PayPal, the #1 payment service in online auctions!