Martin stencil Wurlitzer American Chrome/Nickle C Melody Saxophone
Meet "Harley Martian" a gorgeous and wonderful sounding twenties classic in the key of C. A Harley muffler's got nothing on this baby!
You are bidding on a Martin Stencil Wurlitzer American chrome plated C Melody saxophone. Serial number is 147xxx which indicates it was made about 1925 and its also marked "Low Pitch" which means the modern concert standard. The neck number matches the body serial number so this is the original neck and it has no discernable finish loss. There is a good condition alto sized neck cork on the neck.

Cosmetically this horn is in gorgeous original condition. There is really only one significant flaw a shallow dent at the bow that's about two inches long and half and inch wide and that's about it. I considered having it taken out which isn't a significantly difficult or expensive option, but was unsure of what the process might do to the chrome finish in that area. Also the dent is in a very inconspicous out of the way place and isn't obvious unless you are looking right at the inside chair side of the bow. It doesn't intrude into the body more then around a quarter of an inch, if that much. I decided to leave the decision to the new owner. There are two good closeup pictures of the dent. The keys and thumbrests show no discernable wear and the pearls look essentially new and shiny. It's even very nice on the valve covers, around the tone holes, and under the keys. The chrome/nickle plate finish is intact in the 99% range, among the best I've seen in a horn this old.

This horn was torn down, cleaned out, body and keys polished, body and keys separately treated with a anti tarnish substance that is better than a clear lacquer as it is transparent and non inhibiting sound-wise and doesn't peel or flake off with age and is selectably renewable as needed. Then it was rebuilt replacing almost all its original white pads with new Mark VI resonator style pads. The two largest pads on the bell are the original white ones that still appear to be functional despite their age, so they were retained. This is further evidence that this sax was never played very much even when it was new.

I played it with a tuner and its neat to see when you play a "C" it says "C". It seems to be just about as in tune as newer Martin horns. The horn plays well, but could use more break in playing time from its new owner. I try and do what I can, but I just don't have all the playing time these beauties need. It has such beautiful engraving on the bell around the name. These horns seem to have some of the best characteristics of altos and tenors all in one. The size has enough brass and length to produce a dark mellow tenor type tone, yet its action is tight and the horn sits closer where you can sit it on your knee to play. Great for all those who think the alto is too small and the tenor too big and hate transposing music into E flat or B flat. For these reasons it would make a good alternate practice horn. Shame they quit making this size altogether so many years ago.

It comes with its original serial numbered (last three digits) chrome metal body plug. No mouthpiece comes with this sax. I have available a brand new Runyon C Melody mouthpiece in its original box in a 4 facing size with its original ligature and cap at additional charge. These new style C Melody mouthpieces made by Runyon and others use tenor size reeds and require a tenor sized neck cork, so for this particular sax the neck cork would need to be replaced.

This sax comes with its original deluxe hard case with plush lining which is in nice original condition just like the sax! Another note, this anti tarnish treatment on the entire horn I perform is extra work but should keep this horn cleaner and more tarnish free on all the handling and playing surfaces for some years to come and I am the only one in the world I know of that does this. This anti tarnish treatment is fully renewable at a later time should it need to be freshened up after heavier than normal playing. It should also help protect the key and body surfaces from wear and general loss of finish that occurs from rubbing and handling during play. It is applied directly after polishing and so that newly cleaned gorgeous bright sparkling shiny luster is preserved for a much greater time than it would otherwise. Even though this is a chrome plated sax and generally chrome resists tarnish and scratching better than other finishes, chrome can and does tarnish with a white cloudy affect versus the black tarnish affect of silver.

Our guarantee & return policy.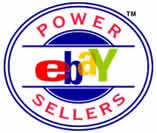 Buyer to pay actual cost for shipping and insurance. Email with your ZIP CODE for shipping costs. Overseas bidders, please email prior to placing bid.

We makd payment EASY! We accept Master Card & VISA through Paypal, Bidpay, or Billpoint, as well as Western Union, cashiers checks and money orders. US personal checks are accepted but item will be held until check clears. Payment is expected within 7 days.

I prefer PayPal, the #1 payment service in online auctions!