Super vintage 1950 Kolhert stencil Alto Saxophone
You are bidding on a classic gold lacquer with nickle keywork 1950 Kolhert alto sax. Serial number is 90xxx, but since I don't have access to reliable information on Kohlert serial numbers I can't tell you when it was made according to that. First hand information from the previous owner indicates it was purchased from a music store "Chesbro Music" in Idaho in 1950. The instrument was traded back in to Chesbro Music several months ago and Chesbro Music sold it to me. Also it is marked "Made in Germany" where Kolhert was located. For a period of time after World War II with the iron curtain just forming, they had not yet changed over to "Made in West Germany". This implies that it couldn't have been much later then the late forties to early fifties. This instrument is identical to a model imported by a British band instrument company called Boosey and Hawkes and called "The Edgeware" a couple of which I have already worked on and which I admired. It is also identical to a Kohlert model called the "Bixley", named after a Kohlert manufacturing center that was produced in this same time frame. Kolhert hasn't produced saxophones since the late sixties, but is still in business making some of the best Bassoons in the world which were always their specialty even before they made saxophones. The exquisite German workmanship and design is evident on this wonderful old sax from the rolled tone holes to the strong well made keys! Cosmetically it is in excellent condition as you can see. It has no dents, no big dings, and only some rippling in the usual places. There are several thinner lacquer places and scratching mostly on the backside of the sax and on the outside of the bell and inside the bell on the rim. Also one of the lower bow area key guards was missing so I replaced with a similar vintage keyguard of the same size and type. It is well concealed. This horn has been overhauled. The horn was stripped down to the tube and scrubbed inside and out. Then it was carefully rebuilt with virtually all new Selmer Mark VI style dome resonator pads. It also received a brand new neck cork on its original neck. The sax has gone through the initial stages of break in, though it may need more break in playing from its new owner as I don't have the time to completely break in all these beauties before they leave.

There is no mouthpiece with this sax however if the new owner is interested in a new Runyon mouthpiece in a particular facing size, that can be added at additional cost. If I don't have it in stock I can order it. No shipping charge, of course, if it goes out with the sax.

This sax comes with its original faux alligator case that has seen better days, but seems to do the job.

Our guarantee & return policy.
See photos: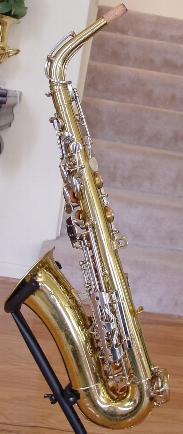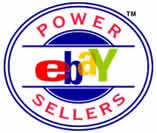 Buyer to pay actual cost for shipping, insurance, and packaging. We accept Master Card & VISA through Paypal, Billpoint or Bidpay as well as cashiers checks and money orders.
I prefer PayPal, the #1 payment service in online auctions!