1949 Buescher Aristocrat "Big B" Baritone Saxophone
Overhauled with all new pads and nicely original!
Can you FEEL music as well as hear it?
You can if its a Big "B" Buescher Boom Bari!
Meet "Big Bad Bee", regarded by many fans as one of the best model bari's of all time!
After his gorgeous and extensive engraving have stunned you, his sound will blow you away you!
You are bidding on a fabulous Buescher Aristocrat Big "B" baritone saxophone. The serial number 329xxx model 129 indicates he was made about 1949! Although later Buescher Aristocrats in the sixties and after are considered student/intermediate level horns, this horn is a professional level earlier Big B Aristocrat with goldish brown rollers, fancy mother of pearl left thumbrest and ocatave key, snap-in pads, brass screw in Norton springs, over-size bell, and very attractive proportions with lots of extensive engraving all the way down to the bow. Anyone who knows these horns knows the snap-in studs holding the pads act as huge dome resonators causing sound to be radiated outward aggressively. They are what give Big Bad Bee his sting! (no apologies to the singing ex-policeman) Check the pictures for all these great features!!

Cosmetically it is a bright shiny gold color which is very attractive as you can see as the original lacquer finish on this horn is still very nice considering its age. The bottom is in good condition with no major flatness or dents to either the bottom or the bow fin. There are a typical good number of nice size dings and some rippling in the bow area. Also a smaller dent up the backside of the bell near the tone holes that could be taken out if needed. There are three or four resolders on various posts and braces, all seemed to have been done long ago, seem to have been professionally done, and aren't real obvious. There also are a good number of typical dings on the upper pig tail area near the neck join. The original neck seems to be ding free and is only experiencing the typical lacquer loss you'd expect on an older bari. There is the typical wear on the keys and thumbrests.

There is also the characteristic neck mechanism conflict these Big B bari horns seem to have if while assembled you attempt to move the neck in a leftward direction about forty degrees where the neck pip lever hits the body octave mechanism on the right. This appears to be more of a design issue that Buescher had on these horns and not anything adverse with this particular bari. It's not a playing issue since nobody would play with the neck pointed that far to the side normally, just more of a curiosity to note.

There are also the typical scratches and pinpoint lacquer aging deterioration over the entire horn which also seem to verify this as original lacquer. The engraving and serial numbers are obviously crisp and original with no fill in or wash. Original gold lacquer is intact in the 85 to 90% range which is extraordinary for a bari this old. Except for several areas on the pig tail, there really aren't any large areas of general lacquer loss just little pinpoints, scratching, and very small areas of loss. Look at the pictures and see for yourself.

Now about the overhaul, basically the horn was completely torn down to the tube and scrubbed and bathed inside and out extensively. Then carefully reassembled with ALL NEW SNAP IN PADS. Almost all the snaps were present with the exception of maybe three or four which is also amazing. Then it was carefully leak light pad tested and play adjusted and tested. It may need some more break in, just like a new horn does. I try and do what I can, but I just don't have the playing hours some of these beauties need!! Hopefully, the new owner can continue this process.

It plays wonderfully: a rich DEEP FAT GROWLING TONE that only a fine professional level forties Buescher bari can provide! This is a great professional horn! Ready for some BLOWIN! This is an amazing bari as it seems to have such large volumes of highly refined sound! It overwhelmed a silver five digit Mark VI bari just sold for four thousand dollars in direct one on one comparison. Other loud baris, such as from Martin and Conn, tend to overwhelm you with lots of distortion and noise with the sound, but this sax has a very desirable clean pure tone to its growling! And the lower notes where the snap resonators really kick in are too die for! Pictures show most everything!

The finish over most of the horn is nice and shiny as you can see in the pics. No mouthpiece with this sax. I can order a new Runyon for the new owner shipped directly from Runyon at discounted additional cost over Runyon's price. Also I may have a couple used bari mouthpieces available at additional cost.

This sax comes with a nice deluxe hard case with plush lining. I doubt its the original one, but its in very good condition.

Our guarantee & return policy.
See photos: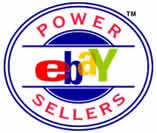 Shipping & Payment Information
Buyer to pay actual cost for shipping and insurance. US buyers email with your ZIP CODE for shipping costs. We do ship internationally however this item boxed is larger than allowed by the United States Post Office. Other carriers will ship but the rate will be very high. If you'd like an estimate of shipping costs, please email with your address including postal code prior to bidding.

We accept Master Card & VISA through Paypal, Billpoint, or Bidpay as well as Western Union, direct wire transfer, cashiers checks and money orders. US personal checks are accepted but we will hold item until check clears.

I prefer PayPal, the #1 payment service in online auctions!