SOLD ON EBAY DECEMBER 2001
1952 Buescher 400 Tenor Saxophone
This is it, in the opinion of many, the best the ultimate in saxophones, second to none in beauty, reliability, quality of construction, and sound !!!
Fully overhauled and GORGEOUS!
Comes with its original deluxe Buescher hard case!
Can you FEEL music as well as hear it?
You can if its the ultimate BIG "B" BOOM Horn with the largest silver bell ever!!!!
Meet QUEEN BEE!!! The Queen of all Saxophones!! Long live the Queen!!
After her spectacular beauty, incredible design, robust construction, and incredible engraving have stunned you, her sound will blow you away!!!
You are bidding on a 1952 Buescher 400 tenor saxophone with serial number 342xxx. This horn is totally professional as were all 400's, especially the earlier ones. The 400 is based on the Aristocrat but has a larger bell, underslung octave mechanism on the neck, incredible heavy duty designed keywork, special behind the bell lower valves, and more spectacular cosmetics including lots of fancy engraving! Like the Big B Aristocrats they also featured brown rollers, fancy marble left thumbrest, snap-in pads, screw in Norton springs, and very attractive lines/proportions. Anyone who knows these horns knows the snap-in studs holding the pads act as huge dome resonators causing sound to be radiated outward aggressively. They are what give Queen Bee her sting! Check the pictures for all these many, many features!! Cosmetically it is a bright gold color which is very attractive as you can see!!! Only Selmer and Buescher have really been true to Adolphe Sax's unique design of a parabolically curved bore producing the much desired "sweeter" sound in the upper notes and the deep richness in the lower ones. Perhaps that reason, and super Buescher horns like this, later lead to the Selmer and Buescher companies merging in the early sixties!! I have to look to find anything wrong, but here goes. The bottom is in good condition with no major flatness or dents only some small dings and ripples on the inside of the bow in the typical place where the sax hits the chair. Surprisingly there is none of the typical pinpoint lacquer loss common on older Aristocrats and 400's!! Yet this is clearly no relacquer as all engraving is incredibly detailed and there is no serial number washing. If you look extremely closly there is some very minute lacquer loss in tiny spots on the bell, but extremely minimal much less then typical!! It appears to be the original neck. The neck did have a common hairline seam crack on the left side, but has been very professionally repaired and heavily reinforced with an additional bar. This area on the left side of the neck was also relacquered very nicely and is the only such area on the entire horn, no cages or posts have ever been reattached!!! The neck is still quite attractive and is now stronger then it was originally! See the pictures!! Again being extremely fussy there is some typical very minor corrosion around a small number of valves. There are virtually no scratches and only minor typical wear on the usual keys and lower thumbrest. Gold finish is intact in about the 95% range. Look at the pictures and see for yourself. Now about the overhaul, basically the horn was completely torn down to the tube and scrubbed and bathed inside and out extensively!!! Then carefully reassembled with ALL NEW PADS except one that didn't need to be replaced!!! Then it was carefully leak light pad tested and play adjusted and tested. It can't have been in any better condition when it was new, mechanically or play-wise. It plays WONDERFULLY: a rich DEEP FAT TONE that only a fine professional level fifties Buescher 400 tenor can provide. This plays like the ultimate horn! It's ready for some serious BLOWIN! Pictures show most everything! The finish over large areas of the horn is nice and shiny as new!! This is a solid playable instrument with the fast action, great looks, and great sound of a fifties professional level Buescher. Indeed, perhaps subject to debate, the ultimate professional tenor saxophone ever made!! Comes with a Selmer Goldentone mouthpiece and ligature/reed holder.

This sax comes with its original deluxe Buescher hard case that has seen better days. It's still quite servicable, though as is typical with vintage horns it's a bit musty smelling and may need more airing out then I've been able to give it. I haven't treated it with any air freshener though I've been tempted, I leave that to the buyer, ha ha. While I did consider offering a new or different case with this instrument, I felt that the buyer would probably want this case since it is highly likely the original one this sax came with when it was new. Preserving originality with such an original sax usually is the preference these days. Certainly the buyer may opt to keep this case, but acquire another to hold the sax on a day to day basis. Still having the original case does enhance the long term value of the instrument, even if it is a litte bit too vintage for the nose at times, ha ha!

The SAXMAN at Ann's Music Connection.
See photos:
Queen Bee totally torn down to the tube during her overhaul, just after the Queen's bath!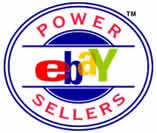 SOLD ON EBAY DECEMBER 2001