Completely Overhauled 1930's Buescher Aristocrat Stencil Elkhart Tenor Saxophone
Comes With Deluxe Original Elkhart/Buescher hard case in great condition!
Can you sometimes feel the
CALL OF THE WILD?
Meet "ELK HORN II"! (Elk Horn 1 was a fifties vintage Elkhart sold some weeks ago
You are bidding on a newly overhauled Buescher Aristocrat Stencil Elkhart tenor sax. While uncertain of the exact year it was made, I believe it to be a middle to late 1930's saxophone due to the style of the case, size of the bell, the neck mechanism, the sticking out pronounced bow fin, and the elaborate engraving! Also the serial number is low (12xxx) and there is no later style 30A model designation below the serial which was common in the later horns. Although later Buescher Aristocrats in the sixties and later are considered student/intermediate level horns, this horn is a semi professional level earlier Aristocrat clone. Check the pictures for these features!! In addition, the neckpiece appears to be original and has a brand new cork. Cosmetically it is very attractive as you can see!!! Only Selmer and Buescher have really been true to Adolphe Sax's unique design of a parabolically curved bore producing the much desired "sweeter" sound in the upper notes and the deep richness in the lower ones. Perhaps that reason, and super Buescher horns like this, later lead to the Selmer and Buescher companies merging in the early sixties!! I have to look hard to find anything seriously wrong, but here goes. There is one minor ding near the bow and another very small one on the neck. There are three cages I had to have reattached and there is some well executed relacquering in those three places. The mother of pearl on the keys looks like new!!! No dents or scratches that I notice. The bottom is in good condition with no flatness. There is very minor loss of lacquer in various areas such as the bow, neck, and just barely noticable on the keys and valve covers. All of this is extremely minor compared to other horns of similar vintage. Gold lacquer finish is intact in about the 95% plus range. I tried to get good pictures of the bell engraving, but the reflected shine made it difficult, rest assured you will have no difficulty seeing it in person. Look at the pictures and see for yourself. Now about the overhaul, basically the horn was completely torn down to the tube and scrubbed and bathed inside and out extensively!!! Then carefully reassembled with partial pad replacement with Selmer Mark VI style dome resonators! I can't recall the exact number replaced, but it was probably about a third of them as the majority of the pads didn't require replacement. Also some springs in the bell valves and lower end were replaced. Then it was carefully leak light pad tested and play adjusted and tested. It can't have been in any better condition when it was new, mechanically or play-wise. It plays WONDERFULLY: a rich DEEP FAT TONE that only a fine thirties Buescher tenor can provide This is a really SOLID horn!! Ready for some SERIOUS BLOWIN... This is truly a wonderful vintage saxophone in excellent original condition!!!! Pictures show most everything! The finish over large areas of the horn is nice and shiny like new!! Comes with a fabulous original brass body plug, a Goldentone mouthpiece, and a gold ligature/reed holder made in france. Also an old Herco cork grease container I never opened.

This sax comes with its original Elkhart/Buescher deluxe hard case. It's like the sax and is in excellent condition with barely any wear on the outside or inside!!!

The Saxman at Ann's music connection.
See photos:
Elk Horn II torn down to the tube after his bath!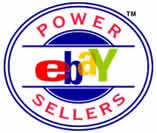 Buyer to pay actual cost for shipping, insurance, and packaging. We accept Master Card & VISA through Billpoint or Paypal, US checks and money orders.
I prefer PayPal, the #1 payment service in online auctions!