Super vintage 1955 Conn Alto Saxophone
Comes with its original deluxe plush lined vintage Conn leather trimmed hard case with key!
Meet a CLASSIC Fifties Conn Alto saxophone in excellent condition!
You are bidding on a classic gold lacquer 1955 Conn alto sax. Serial number indicates that this saxophone was made in 1955 at about Conn's high water mark as a maker. It would make an excellent student or intermediate level instrument. Also due to it's solid reliable construction, ample sized long bell, nickle plated keywork, and fast action it would make a good pro horn as well!! They just haven't made such a heavy well made instrument in many, many years. Just after this saxes started becoming much cheaper! This was because the instrument companies were struggling to contain soaring costs in an effort to maximize profit. This marked the end of a GOLDEN era of saxes and band instruments, in general. This horn originally designed as a student/intermediate instrument is just so much more by today's standard's. As an example, it is heavier then most of today's instruments, even professional ones!! All these reasons are why many consider this to be the ultimate Student/Intermediate level alto sax of all time!!!! Cosmetically it is in GREAT condition as you can see. It has only a few typical scratches, no dents, and a barely disernable microscopic ding near the bow that is difficult to see. This horn has been fully overhauled. The horn was stripped down to the tube and scrubbed inside and out. Then it was carefully rebuilt with ALL NEW PADS, repeat, all new pads. It also received a brand new neck cork. This horn is now in first rate playing condition!! This horn is sweet and plays wonderfully!!!! The full rich sound of a heavier construction classic fifties Conn with high brass content!

This is a solid well made playable instrument with fast action, solid/dependable sound, and drop dead gorgeous looks of the golden era at Conn. Comes with a white no name mouthpiece, silver ligature, white mouthpiece cover, music holder for marching, and a great vintage Grover leather neck strap.

This sax comes with its original brown Conn deluxe hard case with plush lining and leather trim that frankly has seen better days, but is still quite useable. The locking key is tied to the handle and that's where I'm leaving it.

The SAXMAN at Ann's Music Connection.
See photos: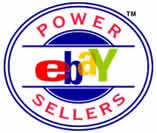 Buyer to pay actual cost for shipping, insurance, and packaging within the US or Canada. Buyer can choose between USPS, UPS or Fed Ex. Will not ship overseas. We accept Master Card & VISA through Billpoint or Paypal, US checks and money orders.
I prefer PayPal, the #1 payment service in online auctions!