SOLD ON EBAY AUGUST 2001
Selmer Bundy Baritone Saxophone
Comes With Deluxe Hard Case!
Meet "Bad Boy" Bari! (it's name)
You are bidding on a Selmer Bundy baritone sax. Serial number is 690914 which indicates it was made in 1977 or 78. From the collection of a lifelong sax player, my husband. Prior to that it was a student instrument. Cosmetically it has the usual scuffs and dents, but it plays wonderfully: a rich deep tone that only a fine bari can provide! The entire house resonates when he plays, as in the pictures, maybe that's why he's starting to turn red!! The bottom is in good condition with no major flatness or dents. There is a small dent between the ring and the lower thumb rest. Also there were some minor repairs made at one time to a couple places. Gold finish is intact in the 95% plus range with the detachable neck the worst area. Pictures show most everything! This is a solid playable instrument with the fast action and great sound of the later Bari's. Comes with a mouthpiece a reed holder that seems a little under sized like its for a Tenor, and one reed in its paper case, very recently purchased.

This sax comes with a deluxe hard case with plush lining.
See photos: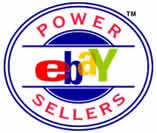 THIS SAX WAS SOLD ON EBAY AUGUST 2001.